Queer & Trans People of Color (QTPOC)
Out Boulder County strives to support our queer & trans people of color community. If you have any suggestions for programs, events, or services we can provide, please contact Juan Moreno or Jenna Howerton.
QTPOC Steering Committee
QTPOC Facebook Group
LGBTQ Youth of Color Group
Queermunidad
*OBC will be hosting a once a month Queer and Trans People of Color (QTPoC) social meet-up!
Thanks to everyone who came out to our first QTPOC Social, which was a Halloween & Dia de Los Muertos themed party at our Boulder Pridehouse! Check out the pictures below!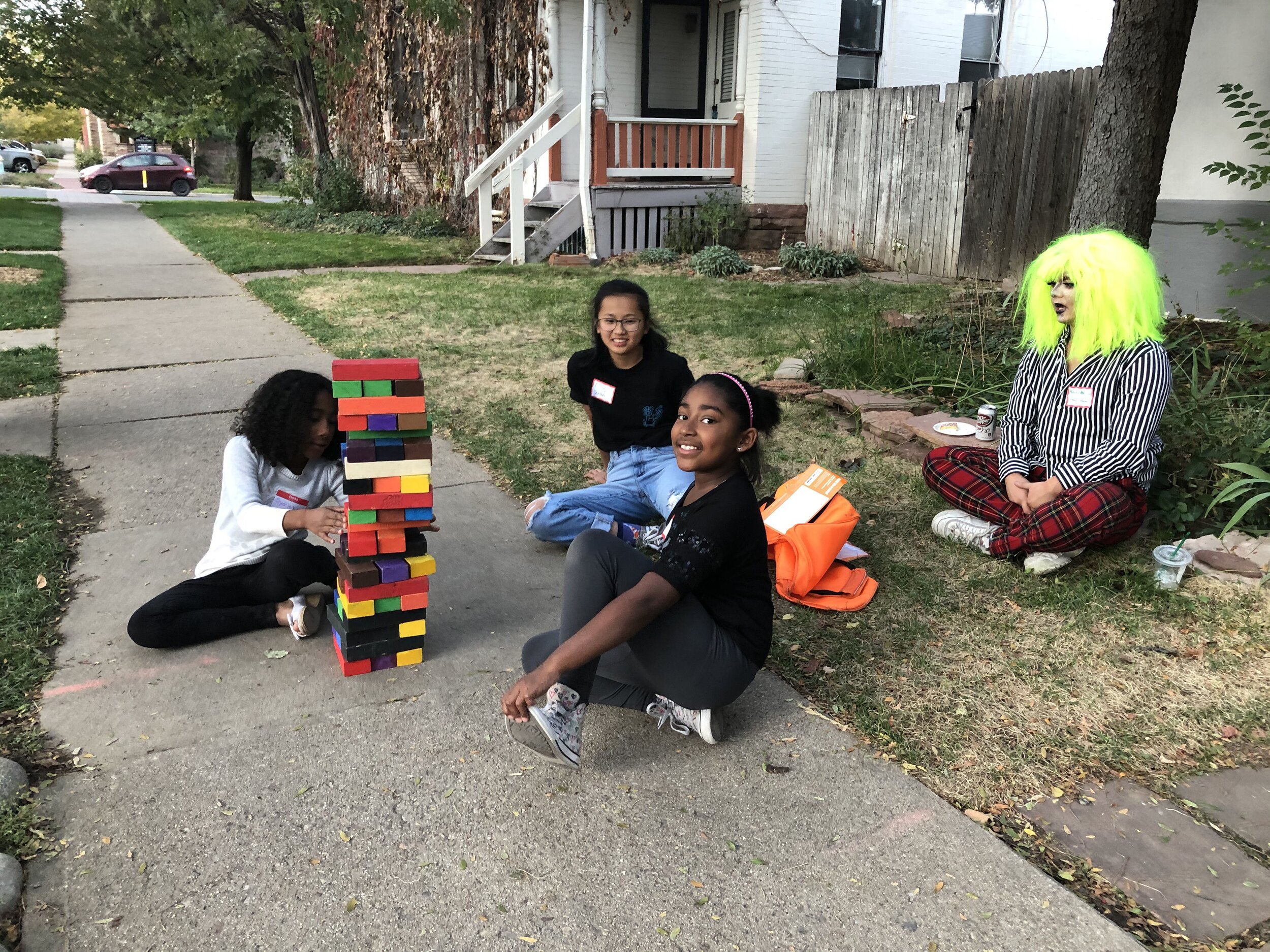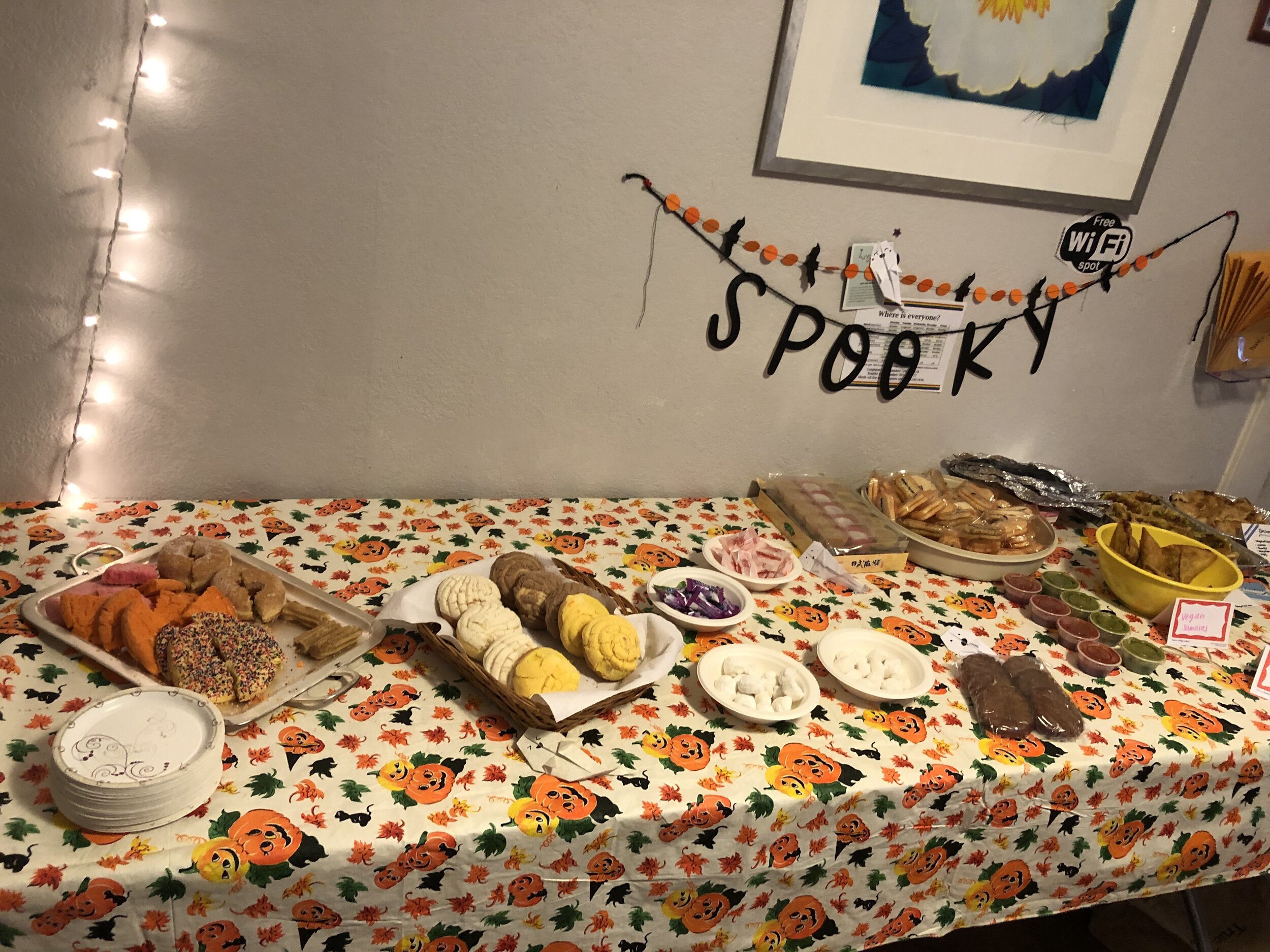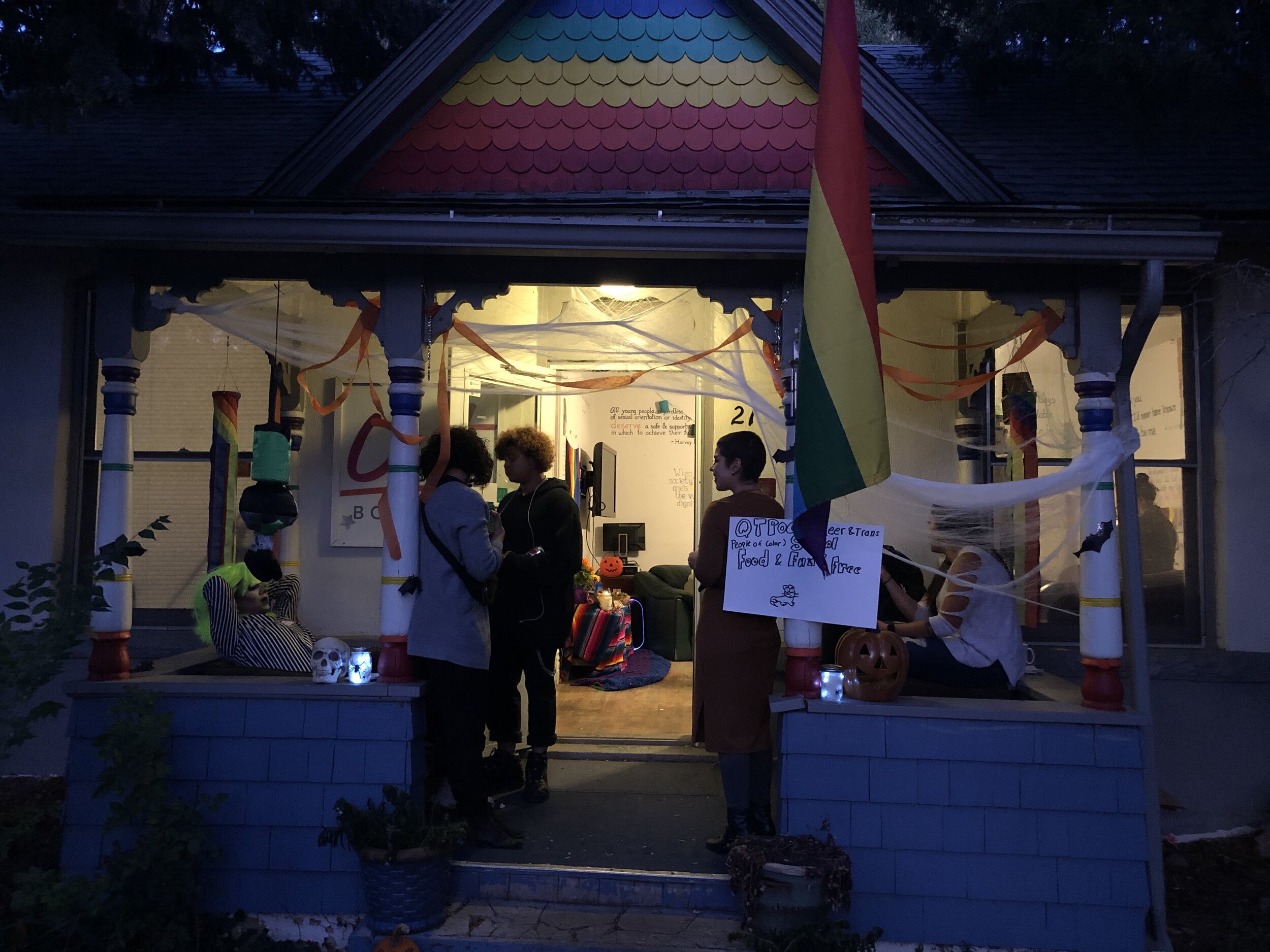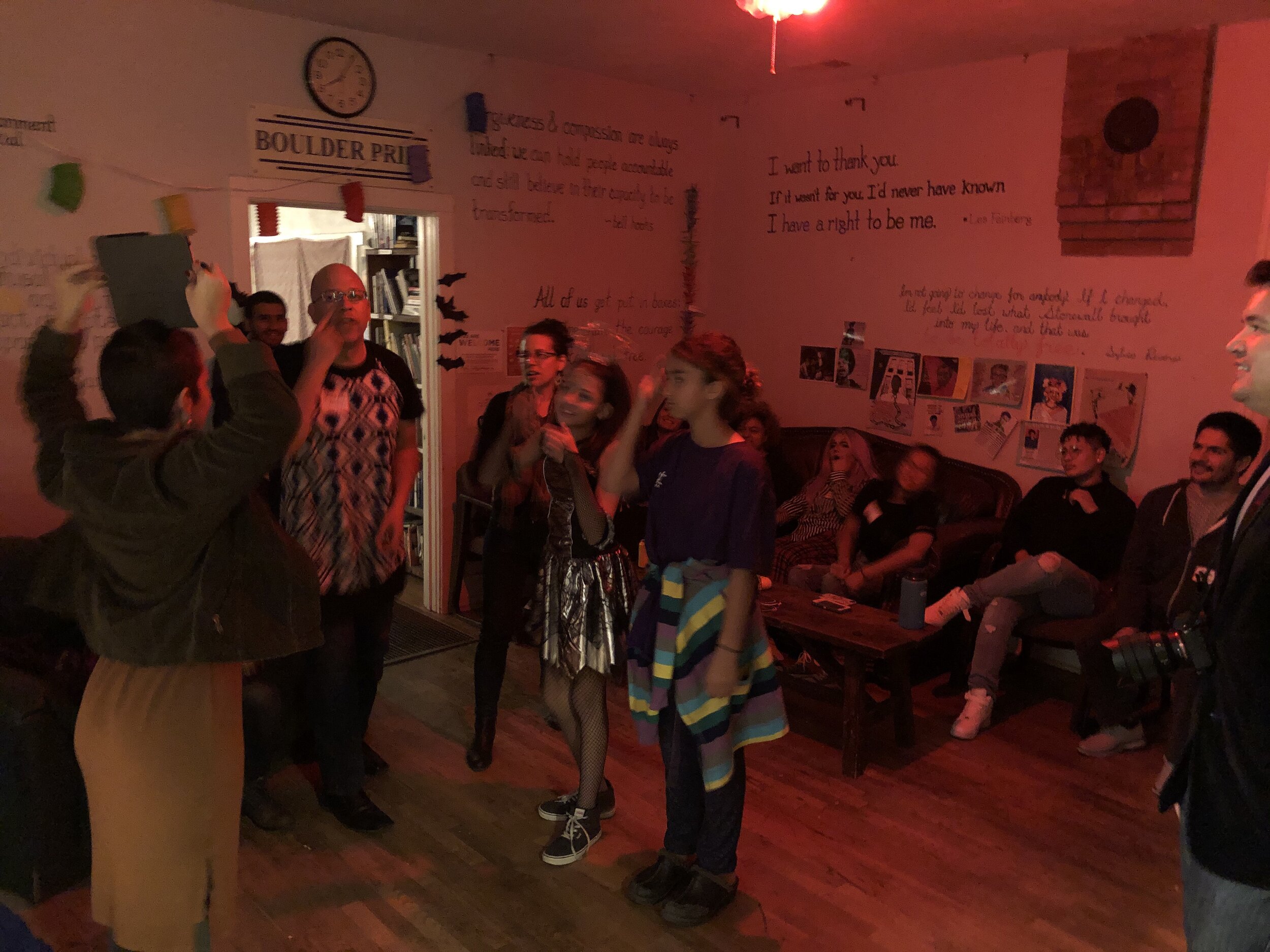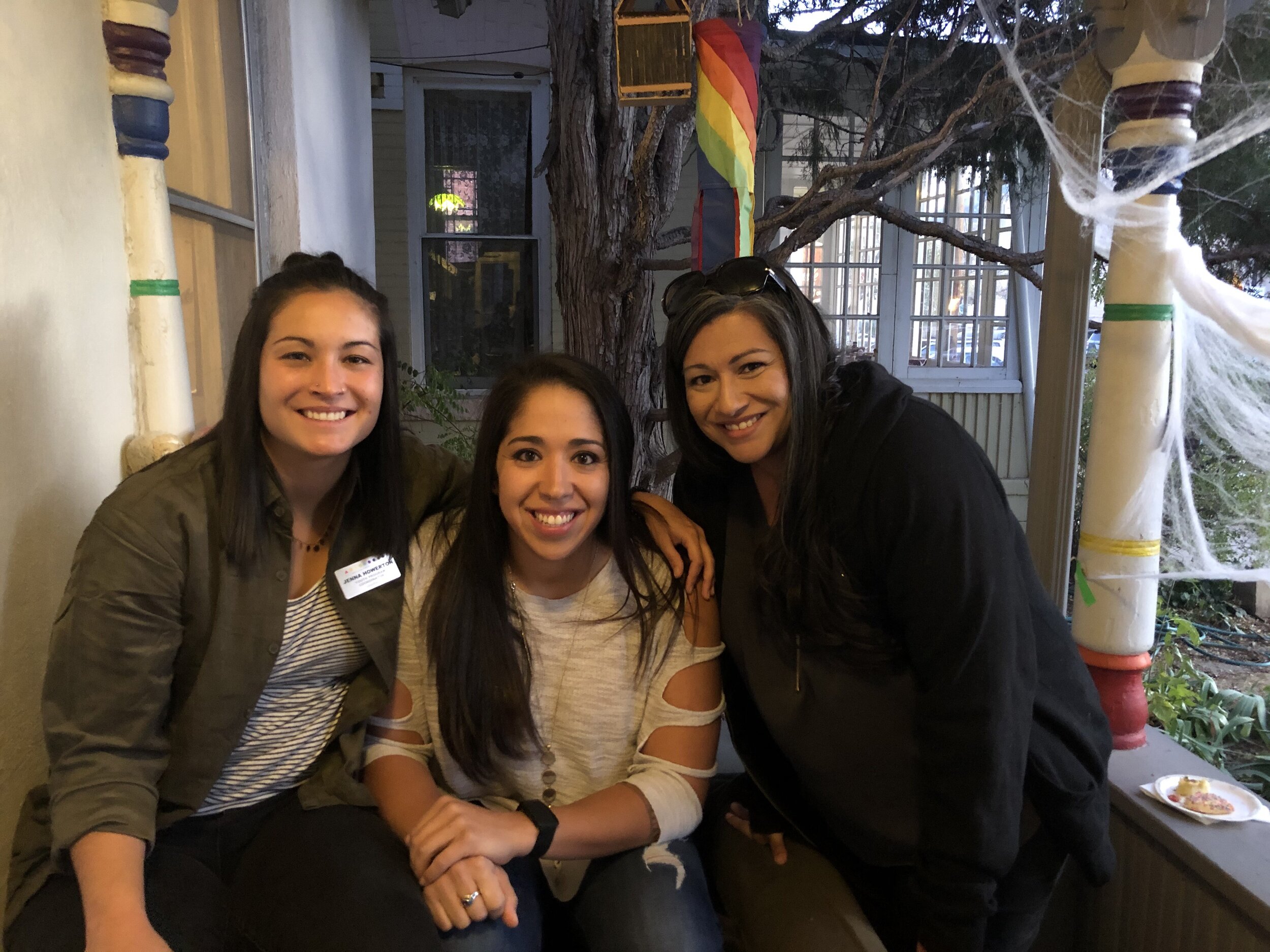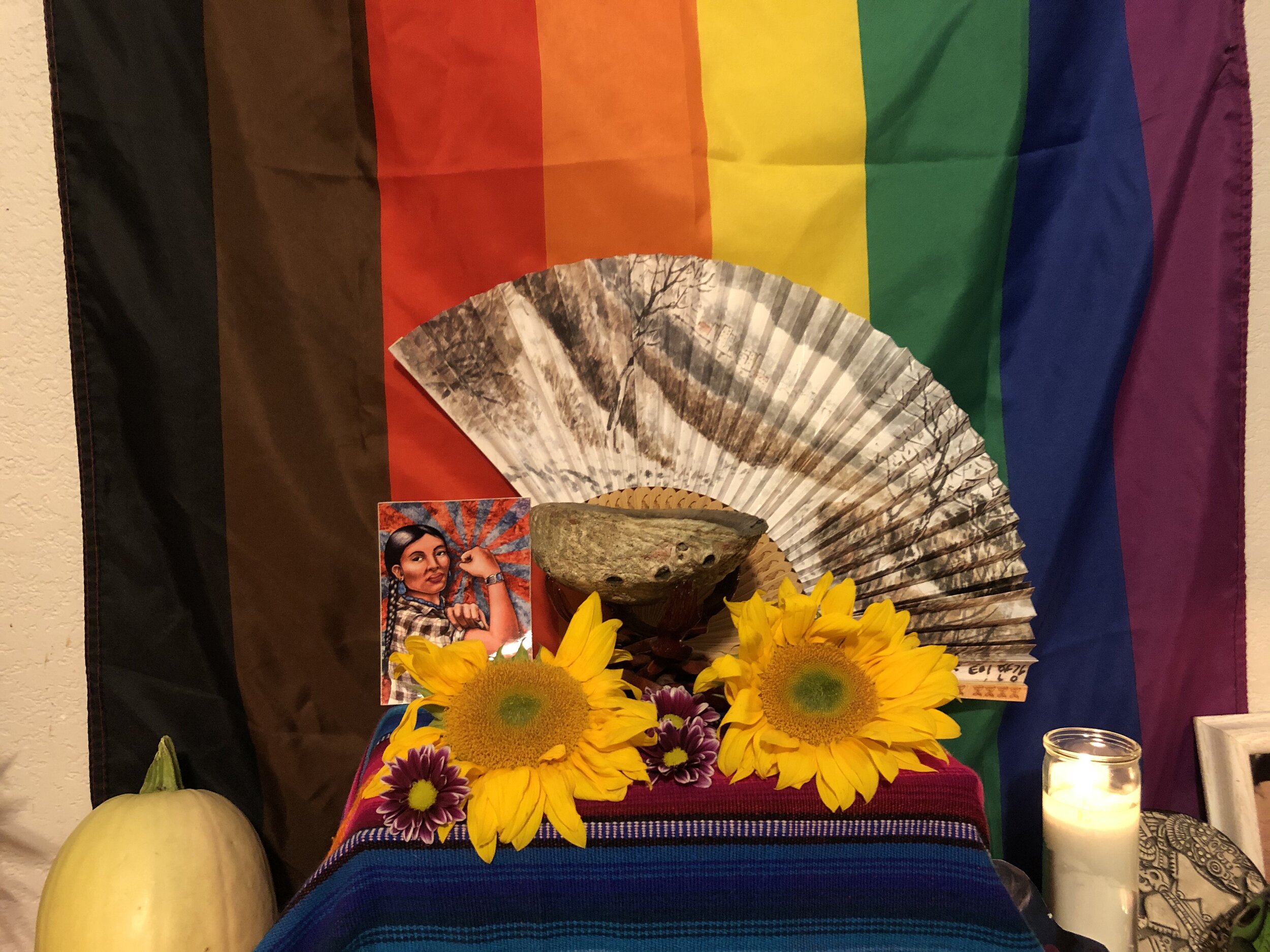 *Join us for our next QTPOC Social on Sunday Nov. 10th for a screening of the film Two-Spirits followed by a panel of local Two-Spirit activists! Click here to get your tickets!
The Queer and Trans People of Color (QTPOC) Steering Committee (SC) is seeking new members!
Our QTPOC Steering Committee is in partnership with Out Boulder County (OBC) and is responsible for informing programming and procedures of the organization and providing input to OBC about content, events, and statements. QTPOC SC members serve as leaders within our communities and key volunteers at QTPOC-organized events and OBC programming. Our mission is to raise the collective voices of LGBTQ people of color in Boulder County through activism, outreach and education. There is a one year commitment to this committee with meetings being held once a month on Saturday evenings.
We are seeking members who are Queer/Trans People of Color and passionate about centering the experiences of QTPOC lives. Parents and guardians are encouraged to apply for this committee as well as anyone who feels they can expand and provide insight into existing gaps in support, services and intersectional lives of QTPOC people.
The QTPOC Steering Committee is a group formed by members of the Out Boulder County QTPOC Leadership Summit. The Leadership Summit comprised of QTPOC members of Boulder and Weld Counties who formed to create action plans specific to each member for them to implement to benefit QTPOC communities. The steering committee was formed proceeding the Leadership Summit to serve Out Boulder County.
Mission Statement - Raise the collective voices of LGBTQIA2S+ People of Color through activism, outreach and education.
Vision Statement - Queer and trans people of color in Boulder County are celebrated, connected, and liberated.
Members of the QTPoC Steering Committee
Daniella Escobar
Born in Colombia, raised in the diversified South Florida by her mother and Puerto Rican Step-father, Daniella has a multi-cultural upbringing. As a Queer Immigrant Womxn, who's experienced conflict in their childhood, they value not only compassion but the willingness to understand different perspectives and experiences. By having the ability to find connections and similarities between people, Daniella is able to help mobilize the community to work together to create change. Her passions have always been expressed in the field of social justice through the mediums of education, activism, and networking. She has developed a unique way of perceiving and understanding the world around them, which in turn has allowed her to develop their skills as a cultural broker--one who can translate the different ways people communicate and interpret the world, thus helping bridge the gaps of understanding, one community at a time.
Lau Malaver
Lau Malaver is a PhD student in the Department of Ethnic Studies at CU Boulder and a member of the Out Boulder Queer & Trans People of Color Steering Committee. Lau thrives in spaces where people come together to radically transform our world from the oppressive systems we have to encounter everyday. They enjoy reading, painting, writing, and most of all, engaging conversations over café. Lau was born and raised in Colombia and has for the past 10 years lived in Boulder, CO.
Jenna Howerton (she/her, they/them)
Jenna Howerton is the Youth Program Coordinator for the Out Boulder County Team. She facilitates and oversees OBC's 4 weekly youth groups including the LGBTQ Middle School youth group, the LGBTQ High School youth group, the Queer & Trans youth group in Longmont, and the LGBTQ Youth of Color group with Bianca. They have experience working with youth in educational settings, juvenile systems, residential treatment facilities, community mental health, and community programming specific for Queer and Trans youth. She is particularly interested in programming that focuses on the intersections of race/ethnicity and gender & sexuality and loves working with and building community with Out Boulder County's QTPOC Steering Committee and QTPOC youth group.
Jenna graduated from Portland State University with a Masters in Social Work and from Colorado State University with a Bachelors in Ethnic Studies and Women's Studies. She played D1 soccer during undergrad for UNLV, Colorado College and CSU. They keep in tact with their sporty side by proudly representing Out Boulder County as their shortstop on their LGBTQ adult softball team!
Ray Rodriguez (he/him/his)
Ray Rodriguez is the son of a New Mexican mother with Pueblo Native American roots and a Mexican father who migrated in search of the American dream. Ray was born in Denver, Colorado and grew up in Fort Morgan, graduating High School before moving to Denver and then Longmont where he has called home for the last eighteen years. He uses his perspective growing up as both a Latino and once physically bullied gay adolescent to ensure that all children have the opportunity to grow up in a safe and inclusive environment and to become who they are meant to be.
He has enjoyed working full time as a Master Data Analyst for Techdata for the past 14 years and when he is not catching the latest Marvel Movie or documenting the work of the progressive community as an amateur photographer, he is surrounded by his family of 4 older brothers, 1 younger sister, mom and dad and countless nieces, nephews, tias, tios and primos.
He served for 5 years total with the Colorado Latino Forum as well as the Colorado Latino Leadership Advocacy and Research Organization and 2 years on the Board of Out Boulder County as well as volunteered for many elections and causes as a Precinct Captain, with a focus on increasing voter turnout.
In his spare time outside of work and family, you can find him volunteering with his self described extended family aka the Out Boulder County QTPOC (Queer and Transgender People of Color) Steering Committee in Longmont, working to strengthen the representation of marinalized communities through advocacy and activism because "Power without love is reckless and abusive, and love without power is sentimental and anemic." - MLK
Miranda Encina (they/them, she/her)
Is a Two-Spirit/Queer Xicanx, born and raised in Boulder Colorado with Indigenous roots from Apache and Navajo ancestry. Miranda was born and raised in Boulder Colorado with family roots in New Mexico and Mexico. Miranda has two kiddos that inspire them everyday on their journey. Miranda graduated Summa Cum Laude from the University of Colorado Boulder double majoring in Ethnic Studies and Sociology. Their research focused on Intergenerational resistance and trauma within Xicana communities, utilizing Queer Xicana theories of decolonization. Miranda has volunteered at local organizations such as Blue Sky Bridge, Safehouse Progressive Alliance for Nonviolence (SPAN), as well as dedicated their time to be a Court Appointed Special Advocate (CASA) and participated in the Denver chapter of INCITE! Women of Color Against Violence. Miranda worked at Safehouse Progressive Alliance for Nonviolence with survivors of domestic violence as the crisis line advocate/Volunteer manager then transitioned into the Emergency Shelter Program Director. During their time with SPAN they collaborated with multiple community organization and also facilitated trainings focused on Client defined advocacy, intersectional oppression and social justice. Miranda has led Indigenous traditional ceremonies and womyn talking circles. Their passion for activism and community healing drives their journey and became the foundation for their business Yolia Creations.
Bianca Alejandra Oyaneder Balzan (all pronouns)
Bianca Alejandra Oyaneder Balzan is the Queer & Trans People of Color Youth Program Facilitator at Out Boulder County. She received her Bachelors in Sociology from the University of North Carolina Wilmington and spent those years grassroots organizing. They are excited to continue creating a space for the QTPOC youths of the community.
Tamora Tanniehill (she/her/hers)
Tamora is a Colorado native, mental health professional/advocate and aspiring clay figurine sculptor. After earning her undergraduate degrees in Psychology and Women and Gender Studies at CU Boulder, she found a passion for working with individuals in less than ideal circumstances. As a result, she returned to school and earned her Master's in Counseling from Regis University.
Tamora has a passion for working with marginalized young people and currently works at a Runaway and Homeless Youth Shelter. She has extensive history working with youth in the foster care system as well as experience working with individuals involved in the criminal justice system, survivors of intimate partner violence and people of color. She is also a huge fan of anything artistic, smooth writing top shelf pens and all things astrology! She is excited to see the continued positive impact QTPOC can have on the psyches of one another!
Contact Jenna Howerton for more information about the QTPOC Steering Committee.
A place for LGBTQ+ People of Color in the Boulder County area to connect.
LGBTQ Youth of Color Group
OBC's new QTPOC group for youth ages 11-18 (under 13 need guardian permission form).
Contact:
Jenna Howerton, Youth Program Coordinator
jhowerton@outboulder.org
or Bianca Oyaneder, QTPOC Youth Facilitator boyaneder@outboulder.org
Details:
Weekly on Tuesdays
5PM - 6:30PM
OBC Longmont 630 Main st.
Our LGBTQ Youth of Color group serves as a safe space where LGBTQ-identified youth who are also people of color can learn and enjoy acceptance and empowerment in a welcoming environment.
See our Facebook page for more information or contact our Youth Program Coordinator Jenna at jhowerton@outboulder.org.
A monthly social Group for Latinx LGBTQ+ folks!
Out Boulder County supports Queermunidad, a social meeting of Latino, Latina, and Latinx LGBTQ+ folks. The group meets monthly at different times in different locations in Boulder County. Interested people can email Juan and request to join the Facebook page to stay aware of what's happening.
Come join us for monthly gatherings, and meet other LGBTQIA+ Latinx folks. This bilingual and bicultural group is a social and supportive space for folks who identify as lesbian, gay, bisexual, transgender, queer, intersex and asexual that also are part of the Latinx community.
Ven a nuestra reunión mensual y conoce a otros Latinxs en la comunidad LGBTQIA+. Nuestro grupo es un grupo social y de apoyo bilingüe y bicultural para personas de la comunidad lesbiana, gay, bisexual, transgénero, queer, intersexual y asexual que también se identifican con la comunidad Latinx. Para más información, por favor contacte a Juan por correo electrónico.